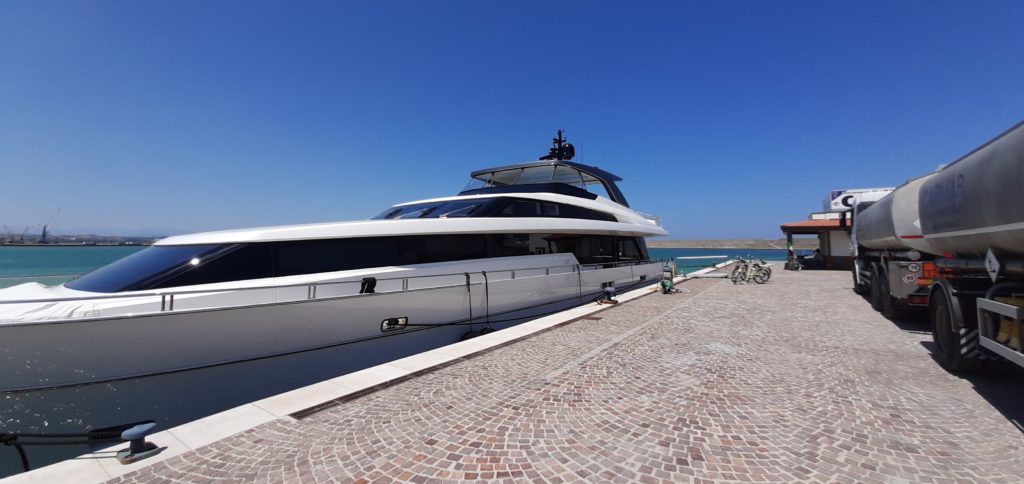 Carmar S.r.l. supplies all types of petroleum products, in particular Tax Paid diesel, Duty Free diesel, gas oil for exportation and lubricating oils. The company is able to respond to all the needs of its customers and supply any quantity of product requested even by tank truck, guaranteeing highly competitive price policies.
The customers that Carmar S.r.l. regularly supplies are both industrial groups and production activities that need oil products to start up their plants and for their vehicle fleets, as well as the naval, tourist and military sectors: shipowners or international yacht management and trading agencies that manage pleasure yachts by organising bunkering operations in all Italian ports.
In both cases, Carmar S.r.l. guarantees high quality standards, allowing customized solutions for every single need.
Relying on Carmar S.r.l. it means entering a safe harbor, finding the ideal partner to grow your business and to advance togheter.
Stopping at the headquarters of Carmar S.r.l. makes it possible to supply yachts and superyachts in the centre of the Mediterranean Sea. The Port of Crotone is a strategic location for bunkering with any type of diesel fuel. In fact, by turning to Carmar S.r.l., commercial and chartered yachts can be supplied with Duty Paid diesel fuel, diesel for export and Duty Free gasoil at competitive prices compared to other Mediterranean countries.
Carmar S.r.l. collaborates with the main maritime companies in the world and offers customized payment solutions. The maximum quality of the product is certified and the safety standards are high and guaranteed.
Every year, hundreds of yachts and superyachts of any sizes rely on Carmar S.r.l. for diesel supplies in the port of Crotone and many other Italian ports and marinas.
Yachts are refuelled either at service stations on the harbour quayside with pumps to dispense litres even at high speed, or by means of modern tankers.
---
Request more information and quotes (click here)
Order or book your oil product (click here)